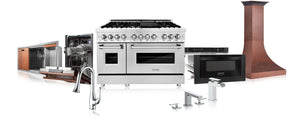 Get the answers you need.
We accept all major credit and debit cards, including VISA, MasterCard, Discover, and American Express, Google Pay, Apple Pay, and Facebook Pay.
Kitchly offers financing options through Shop Pay (available at checkout) in partnership with Affirm. Through Affirm financing, we offer financing terms on applicable products. Terms and conditions of using Affirm can be found on their website along with the necessary forms for pre-qualifying for financing.
A valid email address must be provided during the checkout process.
• All orders are subject to verification and approval.
• All approved orders will be accompanied by an email confirmation from our secure payment server.
• All shipped orders will be followed by an email confirmation including tracking number(s) and shipping carrier contact information. If you do not see your order confirmation, please check your junk or spam folder.
During checkout, you will be given the option of entering a separate shipping address for your order. If you need to change the address after your order has been placed, please contact Customer Service at 1-855-KITCHLY.
*Once your item ships we may not be able to reroute your package.
Contact our Customer Care Department at 1-855-KITCHLY within 24 hours for assistance with order cancellations and changes. For cancellations, customers are subject to a return shipping/re-consignment fee that will be deducted from the total refund if canceled after 24 hours. Order changes must be made within 24 hours (prior to order shipment), otherwise, the customer will have to either cancel and re-order or follow the process of exchange.
*Freight orders will be subject to a reconsignment fee of $150.
Please allow 1 business day upon ordering for your items to process and ship.
Once the order has shipped: Items that ship ground will take 1-5 business days to arrive depending on your location from the shipping warehouse. Items that ship freight will take 3-7 business days to arrive depending on your location from the shipping warehouse.
Once your order ships out, you will receive an email with your tracking number(s) and information. Please check your email or use your order information or tracking number on our order tracking page.
You can also search the tracking provided on the corresponding shipping carrier website to view the estimated day of delivery.
Orders are shipped within the U.S only, excluding Alaska, Hawaii, and the U.S Virgin Islands. All items are shipped via FedEx Ground, FedEx Freight, or the most affordable available shipping partner. Tracking number(s) will be provided via email once the order has shipped. All items ordered Friday-Sunday will be processed and shipped the Monday proceeding the order. All other orders will be shipped the next business day.
All products sold on Kitchly include a manufacturer's warranty. Warranty time frames and details differ based on the product. Contact our Customer Care Department at 1-855-KITCHLY for any questions regarding warranty.